Global Zero Liquid Discharge Market Size Analysis
According to a research survey conducted by ChemView Consulting, in 2022, the Global Zero Liquid Discharge Market was worth US$ 677.9 Mn and is expected to grow at a CAGR of 7.6% over the forecast period. While the historical CAGR is 6.8%, the market is expected to hit US$ 1,410.2 Mn by 2032 end.
Due to strict government rules surrounding wastewater discharge, there has been an increase in the adoption of zero-liquid discharge systems in recent years. Water bodies are hampered by wastewater discharge, which weakens the environment. Zero liquid discharge systems aim to eliminate all liquid and solid waste from a design and provide clean, reusable water.
The collected solid waste can be recycled through several industrial procedures. The clean water produced by zero liquid discharge water treatment systems is utilized as a coolant for equipment and other industrial operations, including oil refinery effluent, cooling tower blowdown, and boiler blowdown.
Market Dynamic
STRINGENT REGULATIONS REGARDING THE DISCHARGE OF SPECIFIC SOLUTES TO WATER BODIES TO BOOST THE MARKET
Regulations placed on businesses and power plants governing emissions into water bodies are the main driver fueling the market growth for zero liquid discharge systems. ZLD systems are mostly used in the industrial sector because it is where the majority of toxic pollutants affecting water bodies and aquatic ecosystems come from. Mercury, arsenic, lead, selenium, salt, toxic elements, nitrate, and other substances are emitted, which throws the environment out of balance.
Water treatment systems with zero liquid discharge produce no emissions into water bodies, and the collected, cleaned water is recycled in industry. Due to the introduction of certain regulations and the greater usage of these systems, as a result, the market is growing.
THE REQUIREMENT OF CUSTOM DESIGN, ALONG WITH THE PROBLEMATIC HANDLING OF COMPLEX STREAMS, HINDERS THE GROWTH
The demand for custom designs that meet the requirements is the main problem that may impede the market growth of zero-liquid discharge systems. Additionally, the device has trouble operating in complex liquid streams like those seen in petrochemical companies, where the sludge is sticky and hard. Considering all these variables and the need for sophisticated equipment, the amount of cash required rises and may eventually harm the market.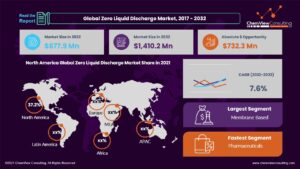 Market Segments Covered in Report
By Technology:
Thermal Based
Membrane Based
By Application:
Energy & Power
Food & Beverages
Chemical & Petrochemical
Textiles
Pharmaceutical
Others
By Process:
Pre-treatment
Filtration
Evaporation & Crystallization
By System:
Conventional ZLD systems
Hybrid ZLD systems
By Region and Country:
North America (U.S., Canada)
Latin America (Brazil, Mexico, Rest of Latin America)
Europe (Germany, Italy, France, UK, Spain, Netherlands, Norway, Russia, Rest of Europe)
Asia-Pacific (China, Japan, South Korea, India, Indonesia, Thailand, Vietnam, Australia & New Zealand, Rest of Asia-Pacific)
Middle East (Saudi Arabia, Turkey, UAE, Rest of Middle East)
Africa (South Africa, Nigeria, Egypt, Rest of Africa)
Segment-Wise Analysis
Why is it expected that Membrane-Based systems will drive the growth of zero-liquid discharge systems?
The market is divided into thermal-based and membrane-based systems according to technology. Due to their higher operational efficiency and the industry's preference for installation over thermal-based installations, membrane-based systems hold a significant market share.
Reverse osmosis, nanofiltration, electrodialysis, and natural evaporation are several processes employed in membrane-based installations. The most common method in ZLD is reverse osmosis since it recovers most of the water and lowers the cost of ZLD. The thermal-based systems treat water using the fundamental crystallization and evaporation processes.
Why is the conventional segment expected to lead the zero liquid discharge systems market?
Due to its widespread adoption across numerous end-use industries, the traditional ZLD system segment is anticipated to dominate the wastewater management market in 2018. Due to their unique designs, which include pre-defined steps, including pretreatment, filtration, evaporation, and crystallization, conventional ZLD systems are standard systems often utilized by diverse end-use industries. Due to the absence of relevant environmental rules for the proper disposal of effluents produced by various end-use sectors, the Middle East and South American regions are experiencing a surge in demand for conventional ZLD systems.
Region-Wise Analysis
The regions analyzed for the market include North America, Europe, Latin America, Asia Pacific, the Middle East, and Africa.
Due to the rising demand for these systems from the US, Canada, and Mexico, the North American region is estimated to have a market share of 37.2% in the zero liquid discharge systems market. It is anticipated to expand rapidly over the forecast period. The wastewater management market in these nations is increasing due to the high demand from end-use sectors, including energy & power, chemicals & petrochemicals, and food & beverages.
India's market expanded by 6.41%. Suppose India can raise the FDI to GDP ratio to 3% to 4%. In that case, it can expect to attract US$ 100 billion in cash-value opportunities in water treatment and sewage collection, treatment, and disposal. This may help India's GDP growth rate return to the 7%–8% area.
Competition Analysis
Most businesses are concentrated on acquiring rival companies to lessen competition and increase their manufacturing operations in developing nations. The strategy calls for innovation, collaboration with significant players, association, alliance development, and the strengthening of regional and global distribution networks.
The key developments in the Global Zero Liquid Discharge Market are:
In September 2021, more than 80.0% of all hygienic applications will be able to use GEA's new generation valve, which offers improved operating safety.
In November 2018, AQUA VISTA, a brand-new facility from Veolia Water Technologies, is a comprehensive digital solution comprised of several intelligent software products for real-time process performance optimization.
A list of some of the key suppliers present in the market are:
Veolia
SUEZ
Alfa Laval AB
Andritz Group
GEA Group
Ion Exchange (India) Ltd.
Aquatech International LLC
S. Water Services Inc.
Aquarion AG
IDE Water Technologies Ltd.
Thermax Global
Multotec Group C
Global Zero Liquid Discharge Market 2022-2032: Report Coverage and Highlights
Assessment of the historical and current market size (2017-2021), market projections (2022-2032), and its contribution to the parent market
Key drivers, restraints, opportunities, and key emerging trends impacting market growth
Predictions on critical supply, demand, and technological trends and changes in consumer behavior
Value chain analysis (list of manufacturers, distributors, end-users, average profitability margins, etc.)
Segment-wise, country-wise, and region-wise market analysis
Competition mapping, market share analysis, key strategies adopted by top players, and competitive tactical intelligence
Key product innovations and regulatory framework
Covid-19 impact on the market and how to navigate
Strategic market analysis and recommendations on crucial winning strategies
| | |
| --- | --- |
| Research Scope | Details |
| Forecast period | 2022-2032 |
| Historical data available for | 2017-2021 |
| Market analysis | USD Million for Value and Tons for Volume, and CAGR from 2022 to 2030 |
| Key regions covered | North America, Latin America, Europe, Asia-Pacific, Middle East, and Africa |
| Key countries covered | US, Canada, Brazil, Mexico, Germany, Italy, France, UK, Spain, Netherlands, Norway, Russia, China, Japan, South Korea, India, Indonesia, Thailand, Vietnam, Australia & New Zealand, Saudi Arabia, Turkey, UAE, South Africa, Nigeria, Egypt |
| Key segments covered | By Technology, Application, Process, System, and Region |
| Customization scope | Available upon Request |
| Pricing and purchase options | Available upon Request |